WAAPA Music Auditorium
reviewed by Neville Cohn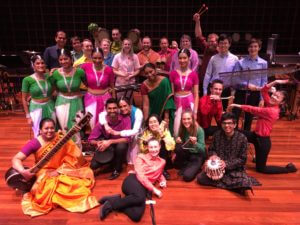 It is one of Western Australia's most meaningful musical success stories.
For years. Defying Gravity has brought performances of the highest order to invariably full houses. This is a particularly remarkable achievement in that, firstly, the performers are still students and, secondly, that the make-up of the ensemble constantly changes as WAAPA students graduate and take their skills to an ever-widening audience. And Tim White, percussionist par excellence, shares, as ever, a priceless understanding of the medium with his students.
Overwhelmingly, works on offer are of recent vintage so it was with particular interest that we listened to a work dating as far back as 1695 when King Louis XIV occupied the French throne. Here, on two timpani, Jesse Vivante brought a sense of high occasion to Philidor's Batterie de timbales. This was an impressive and stylish summons to attention.
Moving forward 323 years, Germaine Png and Gabrielle Lee did wonders on vibraphone and marimba in Emmanuel Sejourne's Losa. In high style, this young duo did wonders in evoking the essence of the music. Much of the playing was informed by a frankly delightful peekaboos insouciance and engaging rhythms.
Jonathan Jie Hong Yang's Rainforest was given its world premiere performance. A program note refers to the music's 'mesmerising tranquillity' – and 16 players pooled their skills to charming effect in evoking this gentle mood. In contrast to these islands of quietness, there were more emphatically stated ideas that fell most agreeably on the ear. I'd very much like to listen to this again, a view probably shared by most of the audience if the intensity of applause that greeted its conclusion is anything to go by.
In Steven Rush's Mas Fuente, ferocity was well to the fore with savage attacks on drum surfaces and much energetic use of cymbals. A good deal of the performance was informed by a savage, unyielding intensity – but there were also moments where softer tones provided some aural relief.
If the name  Pavan Kumar Hari meant little to concertgoers who thronged the auditorium, world premiere performances of three of his works involving both music and dance will almost certainly ensure his name is well remembered – and for all the best reasons. The middle work – Vichara – played on the vibraphone by the composer provided a charming interlude separating the dance offerings.
I am not in any sense an authority on traditional Indian dance styles which were a significant component of Hari's Svatantrya and A Little Touch of India but to my uninformed eye, the dancing was fascinating and gripped the attention from the moment performers entered the darkened auditorium from different points while carrying small trays of tiny, lit candles which were deposited on the perimeter of the stage. Then followed dance episodes of grace and power that were both fascinating and satisfying. They were strikingly costumed.
Of particular quality were Shweta Baskaran's accompaniments on sitar and Sivakumar Balakrishnanl on tabla.
Defying Gravity players positioned behind the dancers brought additional sonic muscle to the proceedings. Bravissimo!